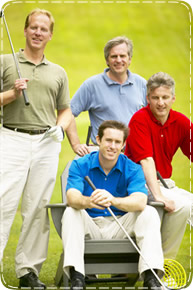 • Featured Pro's •
Corpus Christi-City - Museum of Science & History, Community Youth Development in Corpus Christi, TX
Granite Bay Golf Club - Maintenance in Granite Bay, CA
Barton Creek in Austin, TX
Loxahatchee Club Golf Course in Jupiter, FL
Racquet & Jog Sports in Longview, TX
Canyon Springs Golf Club in San Antonio, TX
Derby Golf & Country Club in Derby, KS
Ridgewood Lakes Golf & Country Club in Davenport, FL
Scott's Corners Golf Course in Montgomery, NY
Kingwood Country Club in Kingwood, TX
Castle Hills Golf Academy in The Colony, TX
Baker National in Hamel, MN
Ridgewood Country Club in Moultonborough, NH
Golf Club Driving Range in Pekin, IL
Candler Hills Restaurant in Ocala, FL
Public Golf Course Listings
Long time golfers as well as beginners may find themselves on public golf courses from time to time. These courses allow anyone to use them usually for a small admission fee. There are no restrictions on who can go. The laid back atmosphere is great for first timers who are looking to get their feet wet in golfing.
Public golf courses can have a wide number of holes despite a game of golf consisting of 18 holes. A golf course can have anywhere from 9 holes where a player will have to go through each hole twice or more than 18 holes where a player can choose which holes they go through. The layout of the course varies and can have ponds, creeks, lots of green, and sand traps. Hazards such as bunkers and vegetation can usually be found on a public golf course.
Depending on the golf course, there may be amenities available for golfers. Some public golf courses have golf carts and golf clubs that can be rented while others also have food and locker rooms for their customers. Driving ranges may also be found on these courses so golfers can practice their swing.
Advanced Search: