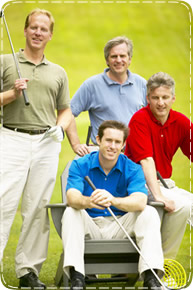 • Featured Pro's •
Sand Creek Golf Course in Marne, MI
University Park Country Club - Pavilion & Tennis Center, Park Grille & Cafe, Tennis & Fitness Centre in Sarasota, FL
Golfarama in Cumming, IA
Evergreen Golf Club in Buffalo, NY
Boulder Golf Range Inc in West Dundee, IL
Ponderosa Golf Course in Burley, ID
Fort Bellefonte Resort in Bellefonte, PA
Sooner Junior Miniature Golf in Bartlesville, OK
Island Sports Center in Pittsburgh, PA
Hogan Park Golf Shop in Midland, TX
Brevofield Golf Links in Wake Forest, NC
Fairfield Golf Course in High Point, NC
Elks Lodge in West Lafayette, IN
Sapphire National LLC in Sapphire, NC
Centreville Golf Center in Centreville, VA
Private Golf Clubs
While there are many golf courses available to the public, some people prefer to enjoy the solitude of a private golf club. Private golf clubs are for members only. Some private clubs only allow new members that are recommended by current members, while others charge scheduled membership fees that so long as they're paid a person is a member. Many clubs have a limit as to how many members they can have regardless of how a person becomes a member, so membership can be hard to acquire. These golf clubs are considered prestigious among golfers since the quality and upkeep of the course is incomparable to public courses.
Private golf clubs usually have amenities such as on-site dining areas and restaurants, golf shops, and bars. Locker rooms are also provided, separated for men and women. Golf carts and golf clubs may be rented from most private golf clubs to provide the full golfer experience.
Any golfer will tell you that the reason private golf clubs are sought after is their courses. Their greens are lush and a beautiful sight for all 18 holes. Most private golf clubs have incredible land terrain such as ponds and creeks on multiple holes.
Advanced Search: