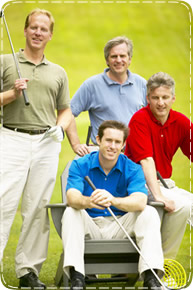 • Featured Pro's •
Kansas City Missouri-City - City of Kansas City Missouri Phone Numbers in Kansas City, MO
Naples Heritage Golf & Country in Naples, FL
Cedar Lake Golf Course in Howe, IN
Murdoch Golf Cars & Specialty in Etowah, NC
HAGO Harrington's Miniature Golf in Stoneham, MA
Deltona Hills Golf in Deltona, FL
Greatimes Family Fun Park in Indianapolis, IN
Golf Club Cape Cod in East Falmouth, MA
Dan Hall Mountain Golf Resort in Coeburn, VA
Woodcrest Golf Club in Manlius, NY
Glenwood Golf Course in Glenwood, IA
Hilton Bay Driving Range in Reno, NV
Bill's Golfland in Belle Vernon, PA
Westpark Golf Club in Leesburg, VA
Putter Inn Restaurant in Yuma, AZ
Local Golf Courses and More
The basic idea of golf is really simple: get the ball in the hole. However, golf has many rules and regulations that takes a simple concept and turns it into an incredibly difficult and popular game. The game has been around for over five centuries and the game has been modified over time.
In modern days, there are multiple golf courses that can be used and there are courses that consist of either 9 or 18 holes. The rules of the game are designed to be fair for all players, with the most known rule being play the ball where it lies, which simply means a player can't move the ball from where it landed. Clothing has even been designed to allow players freedom of movement during their game, and amongst some players it has become their fashion statement.
Golf is a popular sport today not only to play but to watch. Some golfers have become famous from playing world tours and have acquired promotional deals with companies that sell golf equipment such as shoe and clothing companies. The PGA and LPGA tours have television specials as well as sell tickets for spectators and fans to watch the game up close and personal.
Welcome New Companies:



Zarlingo's Golf Cars,LLC



Fairplay Golf Car Dealer, Custom Golf Cars, Service and Sales of all brands of Golf Cars, Turf, & Utiltiy Cars. GEM Dealer /Warranty Center, Sell ZAP...



Grand Junction, Co
Latest Reviews:



Royal Green Golf Center in Mifflintown, PA
from Pepper Seby/Linda haupt
Just wanted to know if you are open today, Sunday, April 10, 2011 and for how long...Telephone number is (717) 242-0807 or call Pepper's Cell and say ...Details
From Our Blog:
Proper Back Position For Golf Swings
The golf swing has many different elements to it. It is not just about putting the ball on a tee and hitting it with a club. It is also about making sure that you have all of the elements to set up to hit the ball correctly. It takes making sure that you are swinging your arms correctly as well as making sure that you have your head on the ball. What some people tend to forget about is the... Continue Reading