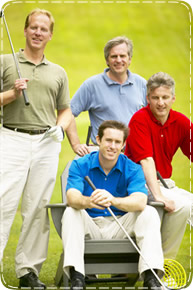 • Featured Pro's •
Sylvan Hills Golf Course Professional Shop in Duncansville, PA
Adventure Falls in Richmond, KY
Golf Carts LLC in Louisville, KY
Broadmoor Golf CRSE Maintenance in Seattle, WA
DOE Valley Golf Course in Brandenburg, KY
Twin City Country Club in Tennille, GA
Meadow Brook Golf Club - Kitchen in Reading, MA
Sports Authority in Mesa, AZ
Bedrock Falls Miniature Golf in Temperance, MI
Timber Ridge Golf Club in Minocqua, WI
Midstate Golf Car in Canton, NY
Four Seasons Golf & Ski Center in Fayetteville, NY
Lipkowitz Jim in Grand Ledge, MI
Glenrochie Country Club - Garage in Abingdon, VA
Ridge at Back Brook the Mechanic in Hopewell, NJ
Local Golf Courses and More
The basic idea of golf is really simple: get the ball in the hole. However, golf has many rules and regulations that takes a simple concept and turns it into an incredibly difficult and popular game. The game has been around for over five centuries and the game has been modified over time.
In modern days, there are multiple golf courses that can be used and there are courses that consist of either 9 or 18 holes. The rules of the game are designed to be fair for all players, with the most known rule being play the ball where it lies, which simply means a player can't move the ball from where it landed. Clothing has even been designed to allow players freedom of movement during their game, and amongst some players it has become their fashion statement.
Golf is a popular sport today not only to play but to watch. Some golfers have become famous from playing world tours and have acquired promotional deals with companies that sell golf equipment such as shoe and clothing companies. The PGA and LPGA tours have television specials as well as sell tickets for spectators and fans to watch the game up close and personal.
Welcome New Companies:



Crescent Oaks Country Club



New TifEagle greens with $1M in golf course and clubhouse upgrades, Crescent Oaks Country Club is open to all and semi-private with sister club Wentwo...



Tarpon Springs, FL
Latest Reviews:



Park Avenue Sports Center in Corning, NY
from Will Parker
I love this place! A great place to take a date for an afternoon or evening of fun. The owners and employees are all so wonderful....Details
From Our Blog:
Are Golf Gloves Worth Wearing?
The golf glove is something that you see on every golfer's less dominant hand. It kind of makes some golfers wonder why they even need this. The glove serves more of a purpose than you might think. Not only does the fact that you are wearing it make a difference in your game. It also will help in making sure that you will be able to have exactly what you will need to make sure that you will be... Continue Reading